12/2/01, We will not forget
From The Smoking Gun: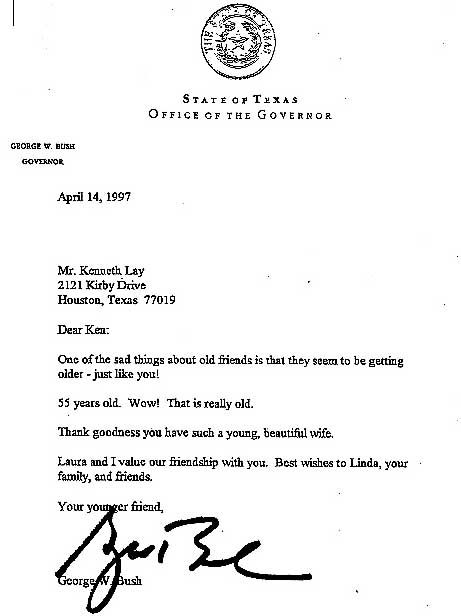 From The Consortium News:
Since Enron Corp. plunged into bankruptcy six months ago, George Bush's defenders have said the administration's refusal to bail out the sinking energy trader is proof of Bush's integrity, given that Enron's Chairman Kenneth Lay was one of Bush's top financial backers. The story line has been that all of Ken Lay's millions couldn't buy George W. Bush. For that reason, Enron has been called a financial scandal, not a political scandal. Growing evidence, however, shows that this Bush-can't-be-bought story line isn't true. It is now clear that prior to Nov. 8, when the Securities and Exchange Commission delivered subpoenas to Enron, the Bush administration did what it could to help Enron replenish its coffers with billions of dollars. Enron desperately needed that money to prevent the exposure of mounting losses hidden in off-the-books partnerships, a bookkeeping black hole that was sucking Enron toward bankruptcy. As Enron's crisis worsened through the first nine months of the Bush presidency, Ken Lay got Bush's help in three principal ways:

1.) Bush personally joined the fight against imposing caps on the soaring price of electricity in California at a time when Enron was artificially driving up the price of electricity by manipulating supply. Bush's rear-guard action against price caps bought Enron and other energy traders extra time to gouge hundreds of millions of dollars from California's consumers.
2.) Bush granted Lay broad influence over the administration's energy policies, including the choice of key regulators to oversee Enron's businesses. The chairman of the Federal Energy Regulatory Commission was suddenly replaced in 2001 after he began to delve into Enron's complex derivative-financing schemes.
3.) Bush had his National Security Council staff organize an administration-wide campaign to pressure the Indian government to accommodate Enron, which wanted to sell its generating plant in Dabhol, India, for $2.3 billion. Bush administration pressure on India over the Dabhol plant continued even after Sept. 11, when India's support was needed for the war on terrorism. The administration's threats against India on Enron's behalf didn't stop until Nov. 8.

On Nov. 8, Enron disclosed the formal SEC investigation and admitted overstating earnings by $586 million with losses hidden in off-the-books partnerships run by Enron's Chief Financial Officer Andrew Fastow. Over the next four weeks, Enron stumbled toward its bankruptcy filing on Dec. 2.

Just a reminder of what this election is really all about... not which patch of relatively close waters Kerry's boat floated on some 30 years ago.